Adaptive Switcher
Why Use the Adaptive Switcher in Sisense?
Increased Viewer Power: Viewers are now able to change the composition of widgets without having to be dashboard designers.

Increased Data Exploration: The dynamic dimension switching feature allows users to explore their data in real-time and in a way that is tailored to their specific needs.

Improved Information Density: By reducing the number of widgets needed to display the same information, the amount of data that can be seen in less space has increased, leading to an overall improvement in information density.

More with Less Space: The feature allows users to do and see more with less space, reducing clutter on the dashboard and providing a cleaner, more streamlined experience.

Improved Performance: Less widgets means faster initial dashboard load time.
---
How does the Adaptive Switcher Work?
The Adaptive Switcher enables effortless switching between different views of data, allowing for easy exploration and analysis. For example, users can easily transition from viewing sales performance by individual employees to identifying top-selling products and revenue-generating products.
Maximize Your Sisense Dashboard Performance
Achieve huge gains in performance and user experience with the Adaptive Switcher Sisense add-in. This innovative tool provides the capability to switch dimensions and measures of widgets on-the-fly, giving users the power to explore their data and reconfigure widgets in real-time.
Designed for non-dashboard designers, the Adaptive Switcher increases the ability to explore data without replicating widgets over and over again, leading to a significant reduction in the number of widgets required on your dashboard. Say goodbye to slow loading times and scrolling and searching, with RAPID BI's Sisense Adaptive Switcher.
Users can do more with less space
By utilizing the Adaptive Analytics Switcher, users can do more with less space, as it eliminates the need for multiple widgets to display similar information. Instead of having two separate widgets for sales by team and sales by employee, users can simply switch between the two views with one widget.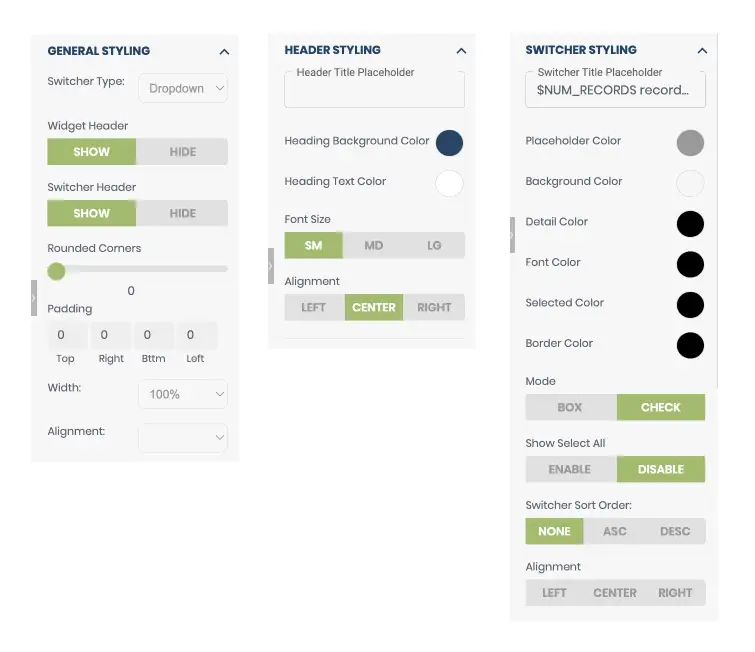 Design Panel Customization Options
The widget design panel offers a wealth of customization options. You have full control over aspects such as colour, padding, alignment, font size, and even the option to hide the heading if desired. This add-on is widely utilized in Sisense, and the customization options have been developed based on customer feedback and requests to give you enhanced control of your dashboard appearance.
You can also provide a list of widget ID's to either include or exclude from being modified when a user makes a selection with the Adaptive Switcher.
---
Case Study: Improving Sisense Dashboards
A Sisense customer was struggling with a dashboard solution that visualized various dimensions and measures. The initial implementation had forty widgets, resulting in slow loading times and a poor user experience. RAPID BI was engaged to resolve the issue.
Upon analysis, it was found that the same four charts were repeated multiple times with different dimensions and measures. By adopting RAPID BI's Adaptive Switcher, the customer was able to simplify the dashboard, reducing it from forty to just four charts. The Adaptive Switcher allows for effortless switching between different views of data, empowering viewers to choose the dimension and measure they want to display with simple drop-down selections. This results in improved user experience and faster dashboard loading, allowing for easy exploration and analysis of sales performance, top-selling products, and revenue-generating products.
The Adaptive Switcher has transformed the customer's dashboard experience, empowering them to uncover new insights in the data. The customer's CTO said, "The Adaptive Switcher has not only improved the user experience, but it has also empowered our users to make more informed decisions based on the data. We are thrilled with the results."
---
Next Steps?
RAPID BI's Adaptive Analytics add-ons are designed to cater to the dynamic needs of your business intelligence operations, by enhancing the user experience and facilitating seamless data analysis.
The Adaptive Switcher is often used along with the Adaptive Filters, which allows users to make filter selections within the page with the same beautiful styling as the Switcher.
If you are interested in multiple add-ons by RAPID BI, consider a RAPID BI Tools Membership which enables access to all RAPID BI's add-ons for an annual fee that can save you $$$$.
RAPID BI provides services to clients across the globe, is equipped to operate in a variety of time zones and handle multiple currencies. Our team boasts over 20 years of cumulative experience with Sisense, and our singular business focus is to assist Sisense clients in extracting maximum value from their data.
Have custom or specific requirements?