BI Implementation, management
and support
Do you have a software product that could benefit from integrated analytics and dashboarding? Does your business need access to data for decision making? Would you like to get your business intelligence up and running fast? Do you need performance tuning, complex integration and best practise? Would you like 100% managed BI Services?
RAPID BI provides a full range of BI services and can help with:
Data Modelling
Elasticube Development
Dashboards
Data Governance
Day to Day Sisense Support
Administration support – users, groups, security
Sisense Tune up
Dashboard Javascript and advanced functions
Plugin Development
Sisense Tool Development
Full Sisense System Automation
Advanced Administration
High Availability
Embedding Dashboards
Sisense is incredibly easy to use, it combines data from any source, builds cubes, and delivers great looking dashboards. With our support you can get your information flowing out to the business in double quick time. Most teams can get Sisense working, we get it working faster and using best practice. Especially where Sisense has already been in use in an organisation our experience on how to manage an existing Sisense system is invaluable. We can help make your cubes build more quickly, perform advanced modelling, develop plugins.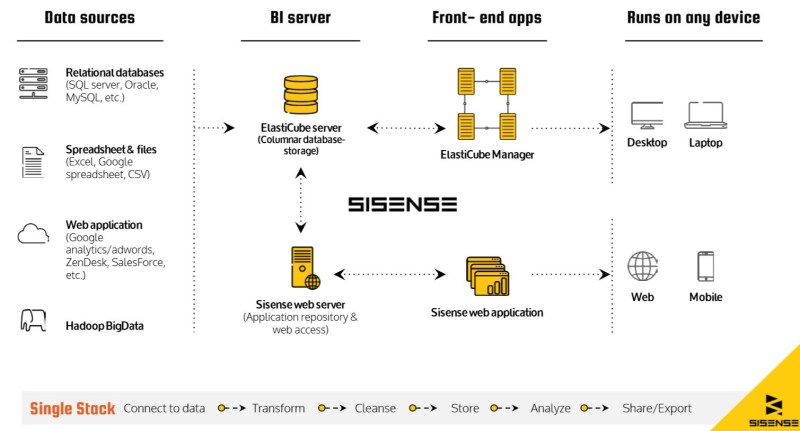 Governance, testing, documentation, data dictionaries, monitoring, troubleshooting are all essential in an enterprise scale system. Sisense often grows organically from user need, and you suddenly find you have dozens of cubes, 100's even 1000's of dashboards. RAPID BI has worked with some of the largest Sisense installations world wide, we know how to make your installation sustainable and scalable. Of course if you start out with our best practises then your transition to a large enterprise level system will be smoother and cost much less in staff time.
If you don't have the skills in house to manage your BI infrastructure we can help. We make sure your installation runs like clockwork, leaving you to focus on the business. As well as Sisense we have extensive experience in data cleansing, address matching, single customer view, data modelling, and we also work across PowerBI, Tableau and Qlik enabling you to integrate all your BI solutions into a cohesive whole.
For OEM customers we can help setup Single Sign On, introduce you to the RestAPI, and automate any task such as automated creation, filtering and sending of reports, with total control over branding for different customers. We have extensive experience with Sisense systems integration, leveraging your existing investment with BI capabilities that you can sell to your customers.