Adaptive Gantt Chart
Why Use the Adaptive Gantt Chart in Sisense?
Display project progress to your team without having to export to and distribute PDFs from MS Project.

See more or less by changing the zoom level.

Assistance with data modelling is available.
---
How does the Adaptive Gantt Chart Work?
The Adaptive Gantt Chart enables you to show project schedules and progress in Sisense. Tasks can be shown with start, end, duration. And how those tasks have been allocated to resources.
You can import data from Microsoft Project (via csv), LibreProject, CSV, Excel or any other format that supports schedules with tasks and links between those tasks. You can highlight milestones within the schedule create a hierarchy of schedule tasks giving just the right level of detail for your users.
Having your GANTT chart output available in Sisense is powerful. No longer do team members need to wait for a project manager to advise of project status or email around messy PDFs. With our Adaptive GANTT Chart add-in your users and stakeholders can see the elements of a project that are important to them.
The best bit about our Gantt Chart is that, if you're part or our membership scheme, we'll even help you setup your data.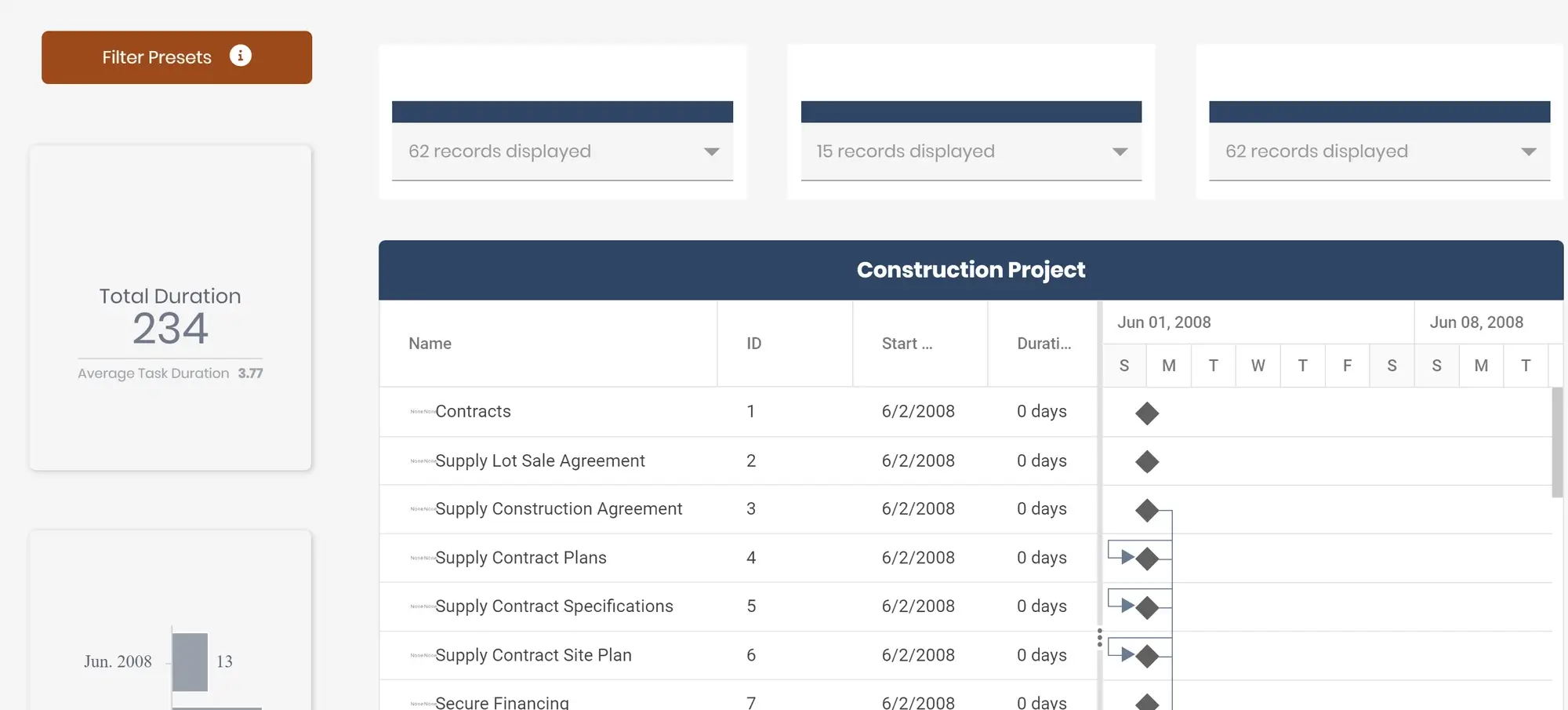 Improve Sisense User Experience
Adaptive Filter Presets allows users to save their dashboard filters to nameable slots and reload them with a single click. This eliminated the need to repeatedly set individual filters and provided users with quick and easy access to the information they needed.
Design Panel Customization Options
The widget design panel offers some options to alter the look and positioning of the Chart.
---
Next Steps?
RAPID BI's Adaptive Analytics add-ons are designed to cater to the dynamic needs of your business intelligence operations, by enhancing the user experience and facilitating seamless data analysis.
The Adaptive GANTT Chart is often used along with Adaptive Filters, which allows users to select different resources, dates or other filters for your GANTT Chart.
If you are interested in multiple add-ons by RAPID BI, consider a RAPID BI Tools Membership which enables access to all RAPID BI's add-ons for an annual fee that can save you $$$$.
RAPID BI provides services to clients across the globe, is equipped to operate in a variety of time zones and handle multiple currencies. Our team boasts over 20 years of cumulative experience with Sisense, and our singular business focus is to assist Sisense clients in extracting maximum value from their data.
Have custom or specific requirements?